Here and Now: The 2018 Honda Odyssey
The 2018 Honda Odyssey debut is living up to all expectations! Brand-new enhancements, including a quieter cabin, newly reconfigurable second-row seating, and technology for keeping tabs on your littlest passengers, show once again that the Odyssey is constantly adapting to meet the needs of family-friendly transportation. No wonder it's been one of America's top-selling minivans since 2010!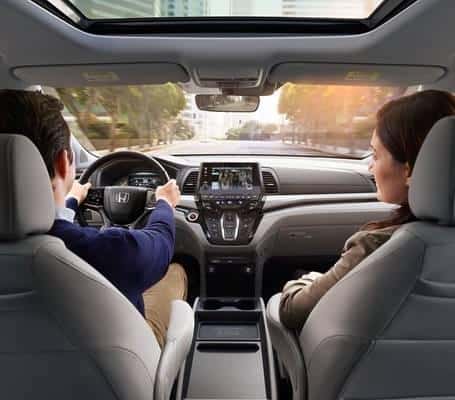 Flexible Function
Getting your crew in and out, quickly and easily, is what it's all about. The 2018 Odyssey adds an available new second-row seating system designed to be easily reconfigured as you go. The unique Magic Slide Seat™ lets you access the third row without contortions and maximize cargo space, even if you have one or two rear-facing baby seats in the second row. The 2018 model also has a new production element – acoustic spray foam inside 14 locations throughout the Odyssey's body, giving it the quietest cabin in its class.
High-Tech Wow Factor
The debut of the 2018 Honda Odyssey also delivers some high-tech features designed to add major quality of life, like CabinWatch™, which uses an infrared camera to show the front-seat riders what's going on in the back, and CabinTalk™, a nifty feature that lets you speak to passengers in the rear seats through speakers and wireless headphones without shouting. A high-resolution, eight-inch touchscreen based on Honda's own operating system provides an intuitive interface for managing audio controls and smartphone commands. And, passengers can even use the CabinControl App to control rear entertainment, as well as heating and air conditioning through their smartphones. An available 4G LTE Wi-Fi hot spot and Social Playlist app for sharing music just add to the wealth of capabilities in the new Odyssey.
Road Boss
The Odyssey has never been short on power, and now a new V6 engine that purrs with 280 hp is available. The latest version also incorporates a brand-new, Honda-proprietary 10-speed automatic transmission, never before used in a front-wheel-drive vehicle. What does this mean for drivers? Well, you'll enjoy smooth, confident power in response to your every command.
Honda Odyssey and Jeffrey Honda
What better place to witness the 2018 Honda Odyssey debut than at Jeffrey Honda? Our team of experts is highly trained in all of the latest Honda advancements, and the launch of this exciting new minivan is no different. We're here to show you how it all works, and we can help you become one of the millions of satisfied Odyssey owners! Contact Jeffrey Honda today to set up your introduction to the amazing Honda Odyssey.