How Long Can You Drive on a Spare Tire?

The general rule when it comes to driving on your spare is to do so as little as possible. For your safety and the health of your Honda vehicle, always prioritize getting to a repair shop for proper tire maintenance as soon as possible. But ultimately, a more accurate answer can be determined from your spare type. In the following guide, the experts at Jeffrey Honda service center will detail the various spare tire types your vehicle may come equipped with in the event you get a flat tire in Roseville.
---
Donut Tire
Commonly known as the donut tire, though also referred to as a space-saver spare, limited-use spare, or compact spare, this tire's sole purpose is to get you to the repair shop. Its small size is helpful for storing under or within your car and provides a minimal safety-net for getting you to a service center. Donut tires can affect your braking and handling, so drive slowly and cautiously until you reach your mechanic. Generally, you don't want to have to drive over 50 miles with a donut spare.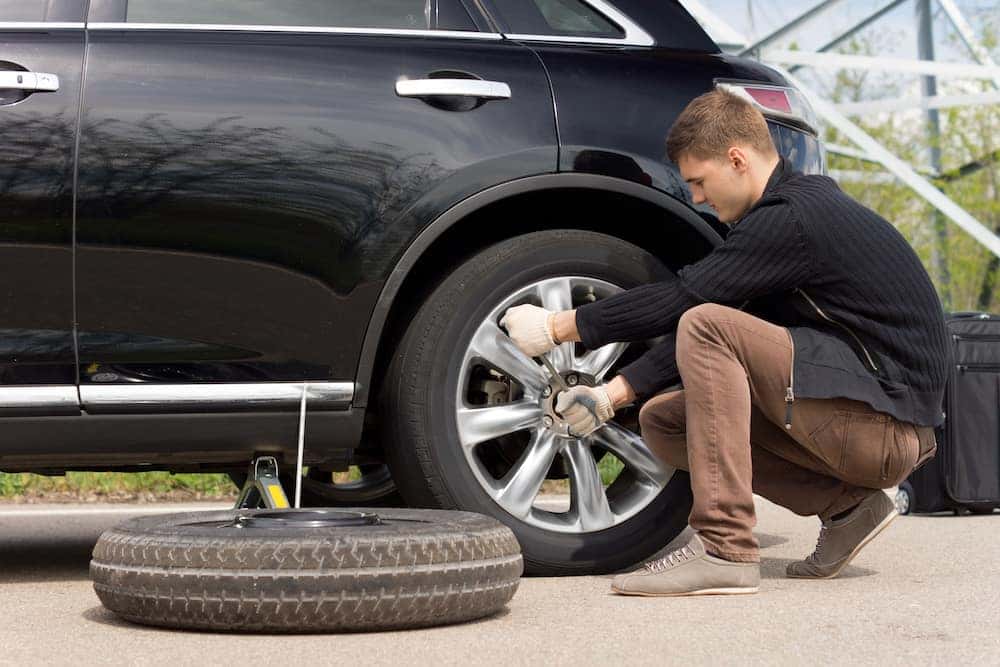 ---
Full-Size Spare Tire
Your Honda truck or SUV may come equipped with a full-size spare. For size reasons, you'll rarely have a full-size spare within your sedan. A full-size spare may or may not match your other three tires. If it does, it's safe to include your matching full-size spare tire in your regular tire rotations. This helps prolong your tires' lives and encourages even wear. With an unmatched spare, you do not need to include it in your rotations, and it is best to use this option only as a temporary solution.
---
Collapsible Spare Tire
Also known as a folding spare or an inflatable spare, this option is strictly to get you to a repair shop. Though it's time-consuming because you have to inflate this spare tire yourself, it's still an option that could be the difference between being stranded and getting you and your vehicle safely to the service center. Drive slowly, carefully, and as little as possible on your collapsible spare tire.
---
Run-Flat Tire
What is a run-flat tire? Let's say you drive over a nail in Grosse Pointe and puncture your tire. If it's a run-flat tire, it's reinforced sidewall design will continue to support your vehicle's weight even in the event of air pressure loss or no pressure. Though more expensive because of this convenience, it's benefits may be worth it to you.
Remains inflated for about 50 miles following a puncture
Does not require you to exit vehicle and repair on roadside in potentially poor conditions
Tougher and more durable than most standard tires
---
Learn More at Roseville
In summary, it's always best to go directly to a repair shop to address a flat tire or spare tire situation. If you have any more questions about how long you can drive on a spare tire or what type of spare tire you should have for your car, please contact our service center. Our trained technicians are committed to keeping St. Clair Shores drivers safe on the road. You can even check out more features like how to wash a car, how to repair scratches or dents, and how to unlock a steering wheel. If you're in the market for a new tire or spare tire, our tire center is also a resource for you.
More From Jeffrey Honda
Grosse Pointe drivers in search of a capable SUV with a wealth of eye-popping color selections, both inside and out, can turn to the 2020 Honda CR-V. This efficient crossover offers an array of ten exterior colors ranging from refined to head-turning as well as three elegant interior color choices. With a large swath of distinct…

If you're looking for a reliable SUV to keep you safe as you make your way through Grosse Pointe and St. Clair Shores, then the 2020 Honda Pilot safety ratings are sure to impress. With an advanced collection of safety features and a design that's built with safety in mind, this Honda SUV has everything you need to stay…

Many Grosse Pointe and St. Clair Shores drivers looking for a great reliable sedan that has all the technology, safety, and amenity features you expect should check out the 2020 Honda Civic Sedan interior. No matter which trim level you have your eye on, there's plenty of features to meet your needs. Step inside and take a closer…