Why is My Car Leaking?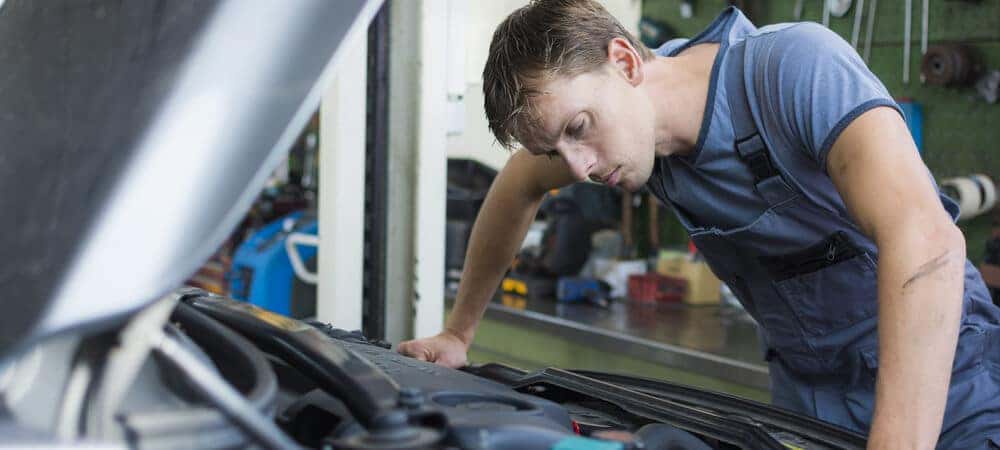 Why is my car leaking? Great question! Suspicious wet spots underneath your car can indicate a number of problems. We'll tell you about a few of the big reasons vehicles spring leaks. If you can't solve the issue on your own, let Jeffrey Honda run some tests for you to diagnose what's happening.
Why is My Car Leaking Coolant?
Yellow fluid is a surefire sign that coolant is leaking from your radiator. Coolant leaks can be the result of a loose hose clamp or damaged o-ring, or you simply might be using the wrong kind of coolant. A test of your AC system can get to the root of the leak.
Do I Have a Power Steering Fluid Leak?
If you see pink or red fluid underneath your car, you might have a leak in your power steering system, possibly in a seal or in the return line that sends the fluid between systems. Worn areas or holes could be the culprit.
Other Leaks
First of all, if you're seeing clear water spots, it's probably just condensation from your air conditioning, so don't worry about that. But be on the lookout for a few other signs that you should take your vehicle in for service:
Green fluid – This is probably antifreeze leaking from the water pump, radiator, or hoses.
Dark or light brown fluid – Brown indicates new or old motor oil, or possibly gear lubricant.
Orange fluid – A rusty radiator or old transmission fluid can show up in an orange-colored leak.
Blue fluid – Blue windshield wiper fluid can come out through the reservoir or tubing if degradation causes a leak.
Try the Jeffrey Honda Service Center
If you're concerned about fluid leaking from your vehicle, it's time to visit the Jeffrey Honda service center. Our leak evaluations will diagnose the source of your problem, and then we'll get you on your way. If you want to learn what your alternator does, how to wash your car, or need an oil change, no problem! Regular oil changes and maintenance offer loads of benefits. Schedule your appointment with Jeffrey Honda in Roseville. We're close to Grosse Pointe and St. Clair Shores. Contact us today!